T2D3 is the playbook for mastering your B2B SaaS go-to-market
Frameworks to help you go-to-market and deliver on your growth promise

Best practices for building and scaling a SaaS business

How to budget, who to hire, what to measure, and how to make big bets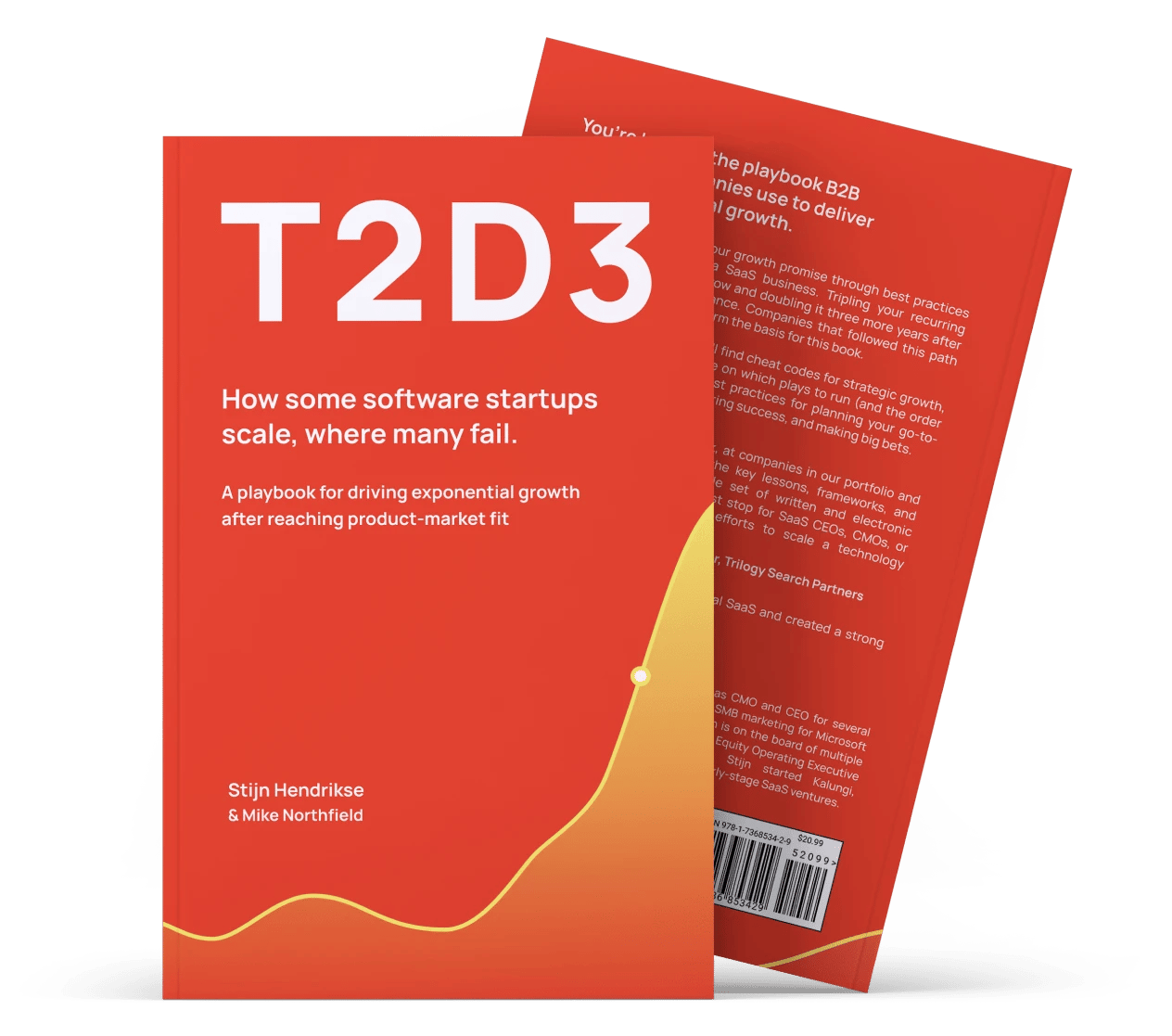 "This is such a good resource for CEOs, CMOs, and growth teams working on building B2B SaaS companies. In our portfolio, we have used these tools and relied on Stijn, Mike, and the Kalungi team for their guidance for several years. A great read and a must-have reference."
"If you're a startup founder, executive, or employee — and you want to understand the role marketing can play in your startup's success — read this book. Even if you think you know startup marketing, read this anyway. I guarantee you'll learn something new, or a more succinct way to communicate a marketing concept or process."
"Stijn is an expert; an experienced leader both as a CEO and as a Marketer. His practical; no-nonsense approach to scaling a company should not be ignored. Be prepared to address the hard questions - if you are a leader who cares about growth and survival - T2D3 is for you and so is Stijn. This book is a bargain—get it for you as a leader and your leadership team!"
WHO'S THE BOOK FOR?
For early-stage SaaS leaders who want to build their go-to-market toolkit
for Investors
You invest in startups with hopes of hitting a unicorn. Turn that hope into a calculated decision by understanding what goes into T2D3 growth.
for CEOs
You have to wear the CMO hat a lot. You have a bunch of big marketing bets to make and need help deciding what to prioritize.
for Marketers
You're a T-shaped individual contributor who wants to step into a strategic role. Learn how to approach marketing from a CMO's perspective.
WHAT'S THE BOOK FOR?
To help you go from minimum viable product (MVP) to $100 Million in ARR
There are 4 major milestones that define the journey of a B2B Software company as their marketing matures.
Getting to a Minimum Viable Product (MVP)

Achieving Product Market Fit (PMF)

Scale exponentially to achieve T2D3 Growth

Become profitable and generate positive EBITDA

Get on-demand access to a growing collection of go-to-market templates
Members get access to tools and templates designed to support the execution of concepts from the book. Ready to use instantly. New templates are added regularly.


EXPLORE THE TEMPLATES
WHAT IS T2D3 GROWTH?
T2D3 stands for Triple triple double double double
T2D3 growth is the goal for every B2B SaaS company. Every investor wants to hit the next "unicorn", but reaching that coveted $1B valuation in 5 years is challenging – and rare. Tripling your annual revenue for two years in a row only to double it three more years after that to reach $100M ARR doesn't happen by chance. Every company that followed that curve shares a similar journey that forms the basis for this book.
What's inside the T2D3 book?
Frameworks, stories, statistics and tools to help you lead your company from MVP to PMF, then scale.
Uncovering and choosing your company's growth priorities
Growth can come from many different sources. You can service a new market, command higher prices as you outperform the competition, diversify your services and monetize them within a specific customer segment, or expand into a new vertical. Some strategies will rely heavily on marketing and sales, and some will depend more on product innovation. T2D3 will give you frameworks for identifying the best path for you.
Nailing your niche, defining your identity, understanding your differentiation
Are you a daisy or an orchid? Both are great. But you can't be both. When you're playing in any software product category, you have to make some hard decisions about what your company provides, and for who. If you can't differentiate yourself from your direct competitors, you'll be seen in the same light as them. Making a statement and staking claim to a specific audience or niche is a powerful part of your positioning strategy. Understand what you're the best at (and what only you can do).
Building a modern marketing function and maintaining its focus
Managing marketing is a full-time job. As CEO or Founder, you already have a full-time job. If you don't come from Marketing, you may need help defining roles, hiring, and managing the right resources to get your marketing function going, and/or get it under control. This book will give you tools to build your team and keep them focused on what matters most – driving recurring revenue.
Knowing, sizing, segmenting, and defining your audience
You must understand your audience before you can be understood by them. Segmentation is everything in Marketing. It helps you understand your market and engage with the parts of it that are most in need of what you have to offer. We'll discuss the journey of your audience as a provider of a technology solution, the journey of your product, the product category it belongs to, and provide models for segmenting and sizing the market.
Creating relevant messaging for your entire customer journey
Sad fact: No one is born wanting to subscribe to your service. They have to learn about their pain, learn about the solution, learn about your product, then understand the offer and take action. This process of going from person to prospect to paying customer is called the customer journey. We'll help you map it and create messaging for prospects at each stage.
Designing an effective Account-Based Marketing (ABM) program
ABM is a form of outbound marketing that complements a typical inbound marketing strategy and helps you get to market fast. It takes the typical sales/marketing funnel and flips it on its head, starting with prospects that are the best fit for your product (ones that fit your Ideal Customer Profile). Instead of them finding you, you find them. Learn how to build a high-performing ABM function that gets quick wins and helps you test your Ideal Customer Profile, positioning and messaging assumptions.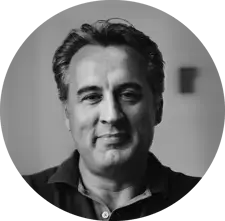 Stijn works with searchers during diligence and post-acquisition, including as an interim Chief Marketing Officer. Stijn has served as CMO and CEO for multiple B2B SaaS companies, including MightyCall and Acumatica.
Stijn led Global SMB Marketing and B2B Product Marketing for Office at Microsoft, including the launch of Office 365 and the adoption of the Open XML ISO 29500 Standard. From this experience, Stijn co-founded Kalungi, specializing in growing small to mid-range B2B software companies by developing and executing their Go-To-Market strategies.
'Experience' is the phrase that comes to mind when I think about Stijn. He brings a wealth of marketing knowledge and wisdom to bear on every situation. He has the real-world software industry experience to bring all of the best practices for rapidly growing organizations together into a plan for achieving the desired results.
We interviewed several digital agencies. But no one had the depth of experience in the software-as-a-service and product marketing categories we needed as Stijn. We hired Stijn in a 120-day, quick-strike capacity. He helped us define our offering and position in the marketplace; develop pillars of value and vehicles for content; define our voice and visual style and hire our first growth marketing team member. And through it all, he's given me great peace of mind. We're well-positioned to take it from here.
Stijn has a very well-thought-out approach to marketing and, I mean this with the greatest of respect, there's really a method to his madness. You're an idiot if you don't follow him and let him drive what needs to get done. The biggest thing Stijn brought to Stave was a discipline built around a cadence and a process he teaches people. He pointed out that we could have done things faster, better, cheaper had we done just a couple things differently.
Among the founders, we felt we had all areas of the company covered—product, design, sales, finance—but none of us had a clue about marketing. It was time to share the benefits of our product with the world. But our marketing function was non-existent. What made matters worse was the fact that not only didn't we know marketing, we didn't even know how to hire someone who did. Stijn offered us a growth plan based on a proven framework, with a playbook that outlines where you should be month by month on positioning and messaging, go-to-market strategies, inbound and outbound campaigns, website content, key performance indicators, and more. He had a plan to execute against, which was extremely valuable.
Stijn is a leader who inspires his team to give their best. I have worked with Stijn for several years, first at Microsoft, and then at a B2B company that was just starting to make big, bold investments in people and in marketing. Under his sales and marketing leadership, revenue grew at an impressive 300% YoY.
Stijn jumpstarted our efforts for scalable demand generation, allowing us to build the team and operation in support of our high growth revenue objectives. His expertise allowed us to shorten the learning curve and make smart decisions without big-time effort or delays.
Stijn has a recipe booklet, if you will, for what a company like ours needs to do and in what sequence to define our brand and bring products to market. This was huge. Stijn was able to remove internal biases that existed. He was able to call on credible, market-tested experience to position us for launch. For me personally, there's a lot of comfort in working with Stijn
GET THE PLAYBOOK
Get your software company on the T2D3 growth path