A masterclass & certification for B2B SaaS CMOs, founders, & go-to-market leaders
The T2D3 CMO Masterclass program is designed to give you everything you need to build, execute, and manage a complete go-to-market for your B2B SaaS company.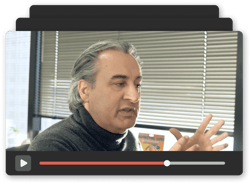 10+ hours of training for every component of your go-to-market
Each lesson teaches a fundamental go-to-market concept. Every lesson is self-paced with tangible frameworks, real examples, and repeatable systems.
A complete set of tools, templates and assets
We've built a library of straightforward templates and tools to make your daily go-to-market work easier—including resources to help you introduce and explain impactful concepts to your executive peers.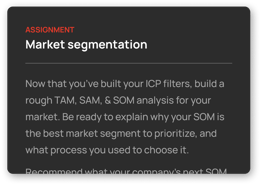 Meaningful assignments to help you apply your learning
This isn't about regurtitation. It's about understanding strategic concepts and applying them. Each takeaway project is designed to help you individualize your learnings for your own company.
Become a certified T2D3 practitioner
Get certified. Signal to your leadership team (or future CEO) that you're serious about your executive marketing toolkit. Certified members may be invited to the T2D3 job board to be connected with serious fractional CMO or in-house B2B SaaS marketing leadership opportunities.
The most foundational shift I have experienced due to the T2D3 masterclasses is my new ability to step back, holistically assess a company's situation, and know where to aim their go-to-market strategy in a way that sets them up for success.
I see how everything works together. The masterclasses have exponentially grown my marketing knowledge and allowed me to really feel like a B2B SaaS marketing expert.
I've used the T2D3 model to help my clients understand how they fit into the market and what their growth stage means for their goals. It gave me new language to get buy-in from the executive teams to rethink their original direction in favor of efforts proven to be more effective for their products, markets, competition, and capabilities.
This class is so sick.
Lecture 1
How to become a B2B SaaS CMO
Learn about the three pillars of success for a B2B SaaS CMO: Leadership, Management, and ROI.
Budget and build your team

Create followership in the board room and from your executive peers

Drive ever increasing marketing outcomes at the right cost
Lecture 2
The SaaS journey
Understand the journey of a high growth B2B SaaS venture, how to manage the marketing function based on stage.
Learn the MVP, PMF and T2D3 milestones that a SaaS Company will encounter as it grows fast

Validate your growth stage through situational awareness

Learn the right Go-to-market strategy for your category and maturity
Lecture 3
Managing marketing strategy
Introduction to the strategic foundation of marketing for T2D3 growth.
Balancing strategy and execution
How to get sign off and buy in from leadership
Ground tactical marketing function in strategy, and prepare a strategy workshop
Lecture 4
Prioritizing growth
Approach your growth strategy and Go-to-market from the right angle.
Complete the Ansoff Matrix and identify the four different growth avenues
Assess your business, prioritize growth strategies, and learn how to "pick your patch"
Dive into your business characteristics like ICP, ACV, ARR, etc.
Lecture 5
Managing marketing tactics
Learn how to approach the tactical foundation of marketing for T2D3 growth.
Create OKRs and KPIs for team members
Tracking and getting the right dashboards
How to execute on and lead the tactical marketing function
Lecture 6
Positioning & messaging
Learn how to best position your business in your market.
Identify your strengths through the best, better, only framework
Learn how to differentiate your business through a unique value proposition
Lecture 7
Market segmentation & ICP
Learn how to best segment and target your market, and find your beachheads.
Learn TAM SAM SOM for your business
Prepare your Ideal Customer Profile, and assess viability
Segment contacts through filters and signals
Lecture 8
Personas
Learn to create accurate personas for your business along the B2B journey.
Learn the Job to be done framework, your audience's pains

Understand Maslow's hierarchy of needs

Learn how to create relevant messaging and content, and address the 3 funnel questions
Lecture 9
SEO for CMOs
Learn how to conceptualize and execute on SEO strategy.
Learn how to manage SEO as a CMO
Understand where to focus and how to start
Learn how to create an SEO engine for your company
Lecture 1oA
Voice of the customer
Understand how to make your most important piece of content, customer testimonials.
Understand the framework and ideology behind testimonials
Learn the full process from sourcing interviewees to organization, to publication and amplification.
Lecture 1oB
How to write (killer) testimonials
Get pro tips on how to interview for and write an effective testimonial from special guest Gary Graf.
Go deep on questions to ask during an interview and learn how to write an effective testimonial
Lecture 11
Stijn goes deep on the T2D3 playbook — our step by step task list that you can use to manage your go-to-market and marketing function.
Learn the T2D3 playbook and how to use it

Learn the T2D3 calculator, created to help you project your target numbers
Lecture 12
Pricing
Go in depth on SaaS pricing fundamentals, and the nitty gritty so you can build out and implement a full pricing strategy and model.
Learn how to evaluate your pricing strategy

Build a feature-based pricing model

Strike the right balance between profitability and good customer experience
Lecture 13
Inspect what you expect - Reporting and analytics
Learn one of our most fundamental rules in business, and how to report, manage your team, and manage analytics and progress.


Learn dashboards, bowlers, and reports

How to effectively manage your weekly and monthly team meetings, and reporting

How to recover from lagging numbers, drive ARR, and measure impact
Lecture 14
Acount-Based Marketing
Learn one of the most important marketing tactics, ABM.


Learn the logos behind ABM and when it can fit into your marketing strategy
How to choose, target, and win the right high value accounts
Learn how to manage and track outreach, direct messaging, emails, etc.
Execute on our method with the "six C's"
Lecture 15
Messaging and Content

Development
Learn the keys to good content and messaging, and how to engage your audience with valuable content.


Learn to write for your audience
Create content for different stages of the funnel using the "wow, how, now" framework
Learn how to create one-pagers, lead magnets, and other content that converts
Tracking and measuring impact of content
Lectures 16-19+
Bonus lessons coming soon
Additional lessons may include:
Budgeting
Building a team
Channel marketing
Growth management/Growing ARPU
Demand generation
Frequently asked questions
Will this program also work for beginners?
Yes. This program complements the book. It's designed for both existing (and aspiring) marketing leaders, founders, and growth teams building B2B SaaS companies.
While an existing foundation of marketing and business knowledge will help you move quicker, beginners can certainly use this program to skill up quickly.
These materials are designed for any go-to-market leader who wants to improve their strategic and managerial toolkit.
Who should (or shouldn't) join the program?
This course is for: B2B SaaS startup founders, executives, investors, and marketing leaders who want to understand and maximize the role that marketing plays in their startup's success.
This course is not for: People looking for marketing gimmicks or short-term growth hacks. The T2D3 Masterclass is about doing things at the right level, in the right order, and understanding that sustainable growth comes from combining strategic patience with tactical impatience.
Is team pricing available?
Team pricing is available on a case by case basis. Please reach out to richard@t2d3.pro to discuss logistics.
How is the program different from the book?
The program compliments the book and builds upon it. If the book is a textbook, the program is a college course. Where the book goes, the course goes deeper and gives you examples, takeaways, and hands on learning.
How do I give feedback?
Want to help us grow?

We love hearing from you. Please email richard@t2d3.pro and set up a time to talk. Or take our short survey here.
Why should I get the masterclass and the playbook?
While the playbook can help someone with the right tools, the masterclass gives you a full understanding of what you're doing, how to do it, and why.

As one of our customers described it, the masterclass helps with the why and how, whereas the playbook helps with the when and step by step.
Can I expense this?
Yes. We believe that it furthers your marketing potential and skills.

If you'd like a template for a proposal, here it is.
Master your B2B SaaS go-to-market